Check out Just Plain Delirious' Favourite's Giveaway!
Click here to enter!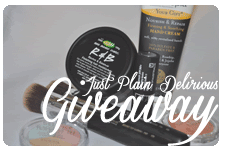 To show her appreciation to all of her followers, Just Plain Delirious is hosting a giveaway of her favorite products.
1st Prize will be her essentials favourite set which includes:
Sigma Sigmax Brush Set of 2 - F84 & F82 Brushes
Essence Concealer & Silky Touch Blush
Lush R&B Hair Moisturiser
Face of Australia Lip Quench Lipstick in Lychee Crush
Puretopic (Organic) Hand Cream
2nd Place Winner will get this set of Face of Australia Barbados Nail Polishes
3rd Place Winner will get these two lovely Essence Concealer and Blush
Details:
* YOU MUST BE A FOLLOWER TO ENTER*
* There needs to be 30 Unique Entries for this giveaway to happen.
* You can only do 3 of the requirements listed:
1 Requirement: Follow Her Blog
2nd Requirement: Comment
3rd Requirement: Tweet, like her facebook, or Sidebar Banner
This Entry Finishes on 31 July 9pm EST (Sydney Time)